2020 Crypto's Most Influential people
So...CoinDesk published a list of the Most Influential people in Crypto for 2020 and ask readers to choose their top 5.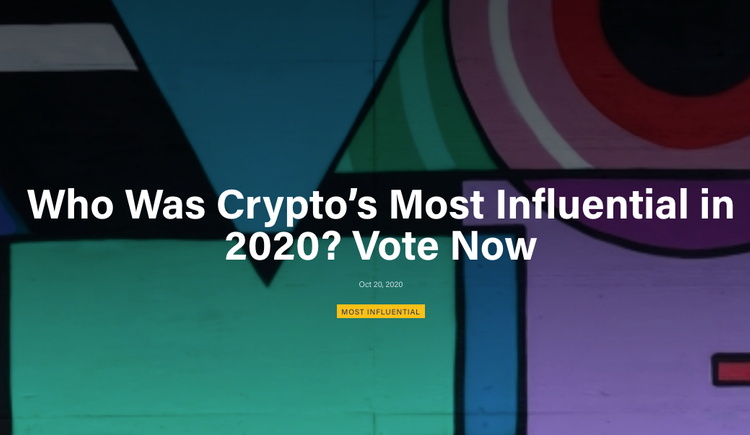 I think it's be interesting to bring this to Holdex and find out what the Holdex community thinks!
Here is how this works:
Pick your top 5
Think if there is someone missing in the list
Reply to this post with your top 5 from the list (kindly just mention the number associated with the name) + anyone who's missing. A sample reply would look like this *Here are my picks: 3, 8, 10, 12, 15 and Vitalik Buterin*. Got it?
At the beginning of November I'll publish the results.
READY?
1 Robert Leshner, Compound founder: For leading the first DeFi project to overtake MakerDAO.
2 Wang Chun, F2Pool co-founder: For encoding "History has repeated," on the Bitcoin halving block.
3 Stani Kulechov, Aave CEO: For changing the game of DeFi lending.
4 Peter Szilagiy: For leading Geth and providing healthy Eth 2.0 skepticism.
5 Pieter Wuille, Blockstream co-founder: For working on SegWit, Taproot and Schnorr.
6 John Wolpert, Baseline creator: For breathing life back into enterprise blockchain.
7 People's Bank of China: For leading the charge to national digital currencies.
8 Bruce Fenton, managing director at Chainstone Labs: For sounding off on coronavirus early.
9 Olaoluwa "Laolu" Osuntokun, CTO of Lightning Labs: Lightning went wumbo.
10 SamCzSun, white hat hacker: For being Ethereum's top white hat hacker.
11 Jesse Powell, Kraken CEO: For pushing through the first crypto bank.
12 Anthony Pompliano, Morgan Creek Digital co-founder: Relentless bitcoin optimist.
13 Aubrey Strobel, Lolli communications director: Because memes matter.
14 Graham Ivan Clark, teenage Twitter hacker: For bringing attention to the flaws of centralized social media companies.
15 The anon who called out Craig Wright by signing a Bitcoin address CSW claimed to own.
16 Alex Mesmej, creator of $ALEX: For riding the wave of self tokenization.
17 Su Zhu, Three Arrows Capital CEO: For insightful analysis.
18 Brian Brooks, Acting Comptroller of the Currency: For taking charge at the OCC.
19 Hayden Adams, Uniswap founder: For inventing one of DeFi's critical protocols.
20 Pavel Durov, Telegram CEO: For battling the SEC
21 Udi Wertheimer, Reckless VR: For bridging the gap between crypto and virtual reality.
22 Danny Ryan: For being Ethereum 2.0's lead developer.
23 Brendon Chez, CoinMarketCap founder: For selling CMC in one of crypto's largest ever MA deals.
24 Chef Nomi, SushiSwap creator: For forking Uniswap, creating discussion around governance tokens and VC funding.
25 Blue Kirby, Yearn cheerleader: For teaching us the importance of having "skin in the game."
26 Alan Silbert, INX CEO: For leading the charge on blockchain-based IPOs.
27 "Defi Degens": For seeking yield everywhere.
28 Balaji S. Srinivasan: For being an early siren for the coronavirus pandemic.
29 Brian Armstrong, Coinbase CEO: For taking an "apolitical" stand.
30 Patrick Byrne, former Overstock CEO: For continued support of tokenization.
31 Hester "Crypto Mom" Peirce, Securities and Exchange Commission Commissioner: For being one of the most prominent crypto advocates among the U.S. regulators
32 Christine Lagarde, European Central Bank president: For directing Europe towards a digital euro.
33 Paolo Ardoino, Tether CTO: For being the face of the world's largest stablecoin.
34 Jerome Powell, Federal Reserve chairman: For ushering in an unprecedented level of stimulus, indirectly proving Bitcoin's core thesis.
35 Kristin Smith, executive director of the Blockchain Association: For being crypto's advocate in Washington, D.C.
36 Mike Belshe, BitGo CEO: For leading the top custodian for BTC on ETH and BitGo's Prime Broker status.
37 Juan Benet, Protocol Labs CEO: For launching Filecoin.
38 Gavin Wood, Polkadot founder: For launching his second top 5 blockchain, Polkadot, this year.
39 Paul Tudor Jones, hedge fund billionaire: For giving institutional weight to BTC bag holding.
40 Michael Saylor, MicroStrategy CEO: Unabashed bitcoin bull, leads the first non-crypto, publicly traded companies to put bitcoin on its balance sheet.
41 Sam Bankman-Fried, FTX CEO: For creating a cornerstone derivatives exchange.
42 Hive, hardfork of Steem: For forking away from Justin Sun's hostile takeover.
43 Financial Action Task Force: For pushing through the "Travel Rule."
44 Muneeb Ali, Blockstack CEO: For building Bitcoin's answer to Web 3.0.
45 Brad Garlinghouse, Ripple CEO: For bringing charges against YouTube.
46 Chris Giancarlo, former CFTC chief: For bringing the digital dollar to the halls of Congress.
47 Alan Lane, Silvergate Bank CEO: For running crypto's bank.
48 Dan Elitzer, Yam.Finance creator: For providing the rocket fuel for the vegetable coin bull market.
49 Arthur Hayes, BitMEX CEO: For remaining out of grasp.
50 Cami Russo, Defiant creator: For being the DeFi and Ethereum whisperer.
51 Roham Gharegozlou, Dapper Labs CEO: For breathing life back into NFTs.
52 Ryan Selkis, Messari founder: For building one of crypto's most reliable data aggregators.
53 J.K. Rowling, author: For bringing crypto Twitter together and tearing us apart.
54 Andre Cronje, Yearn.Finance creator: For pioneering DeFi "fair launches" and yield farming.
55 None of the above.