WhiteBit Reivew (A Beginner's Guide)
WhiteBit is a cryptocurrency trading platform that was launched in 2019 in Estonia. The primary goal of the company is to expand the use of blockchain technology and build a strong crypto community by providing easy-to-use and secure exchange services.
With their user-oriented approach, the platform is constantly evolving and has introduced a variety of powerful features that helped them gain popularity amongst cryptocurrency traders around the world A key feature that separates WhiteBit from other exchanges is that it has licenses for trading in both fiat and cryptocurrencies. Furthermore, it also has the capacity to store its customers' assets. The exchange is listed in the top 100 crypto exchanges today due to its high trading volume per day.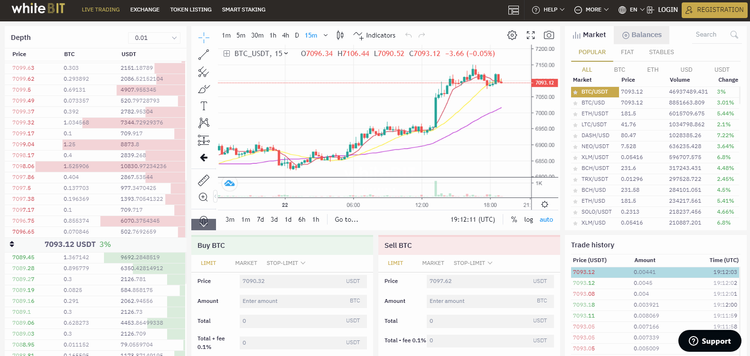 It also offers more than 150 currency trading pairs on its exchange, including Bitcoin, Ethereum, and the US dollar. The platform is focused on bringing the fastest order execution speeds and improving liquidity to facilitate its users. They have introduced a wide array of exciting features that is sure to excite crypto enthusiasts around the world.
PROS & CONS
Like all other exchanges, WhiteBit has some pros and cons. Let's take a look at them.
*Pros
It has obtained two licenses, which proves its legitimacy.
Users can make deposits in crypto or fiat. The trading interface can be configured according to the user's preferences.
They have an excellent referral program.
The platform support margin or index trading.
They have maintained a sound security infrastructure.
Their order processing speed is one of the highest in the industry with 10,000 transactions per second.
They have a very competitive and reasonable fee structure for all trades.
The API offered by the platform is very powerful.
It allows users to earn money on their deposits without any risk.
*Cons
There is no demo account feature available.
Account: Register & Login
WhiteBit is a very user-friendly platform. Getting registered on the website can be done in just a few steps. These are:
Log on to the WhiteBit website and or click: REGISTER WHITEBIT NOW
Enter your name, email address, and password.
Read the user agreement and accept the terms and conditions of the platform.
Click on the Sign-Up button.
An email will be sent to the address you have provided. Click on the activation link in the email to start your account.
Your account will be successfully registered, and you can now access the platform's features.
Once your account has been made, you can Log In by clicking on the Login button and then entering your email and password. You can now start trading.
Features WhiteBit provides some powerful features that place it ahead of its competitors. The platform has a customizable user interface that allows users to take control. Users can easily customize the tile-based interface according to their preferences. Their website is easy to navigate through and very convenient to use for experienced cryptocurrency traders as well as newcomers.

Another incredible feature of the platform is its speed and quick trading performance. WhiteBit can process up to 10,000 trades in one second! That is one of the fastest processing rates in any crypto exchange. It also allows over 1,000,000 TCP connections. Users can take advantage of this high-speed performance in an industry where time is money, and the markets are very volatile.
The exchange has an unstoppable API. Users are given access to all of their trading features and data streams. WhiteBit provides its users with both private and public REST APIs.
Public REST APIs consist of market data like the current order book, trade history, and recent trading activity. While private REST APIs give users the ability to manage their orders and funds. It allows users to place orders, cancel them, see their active orders, see their trading volume and principal balances, make deposits and withdrawals, transfer funds to other users as well as see their deposit and withdraw history. It allows them to become more confident while making their trades.
Moreover, the platform allows instant peer-to-peer transactions without any need for confirmation. All operations performed on the platform are fully regulated. The EU licenses cover any crypto to crypto or crypto to fiat exchange operations.
The fee structure of the exchange is also very competitive and is on the lower end of the crypto industry price spectrum. Multiple order types are also supported. These include market orders, limit orders, stop orders, and conditional orders.
WhiteBit also has a lucrative affiliate program. Users are liable to get up to 40% of the fees paid by their referrals whenever they make a trade. A referral link is provided by the site for users to share amongst their friends and get the opportunity to earn extra money while trading.
A smart staking feature is also available on the platform. Users can deposit their cryptocurrency into the platform and choose one of the recommended plans on the exchange. There are 15 plans available, all offering different interest rates and have different deposit limits.
Users can stake their coins in the plan that is most suited to their needs and earn up to 9% interest without any significant risk involved. All the funds are kept in a Smart Box whose safety is guaranteed by the platform itself. It is a convenient way to multiply your capital. Users are also provided with their investment history.
The platform has also developed an app, which is compatible with both Android and iOS to making trading on the go possible. Their website is translated into multiple languages to cater to their international users. REGISTER WHITEBIT NOW
Fees WhiteBit does not have a fee structure based on the maker and taker model. Instead, the exchange charges a flat trading fee of 0.10%, which is lower than the industry average of 0.25%. In some trading pairs, this fee is even lower. The exact amount of the fee charged is shown whenever an order is placed.

Moreover, no deposit fees are charged on Bitcoin, Ethereum, USDC, and USDT. The minimum limit for withdrawals is 0.001 BTC, 0.02 ETH, 10 USDC, and 0 USDT, respectively. The platform also allows deposits to be made via VISA or MasterCard. Any deposits made from these credit cards are charged with a fee of 6.5%, and the minimum deposit limit is 10 USD.
Moreover, deposits made from USD Perfect Money and USD Advcash are charged with a deposit fee of 5% and 4.5%, respectively. The minimum deposit limit is 10 USD.
WhiteBit also charges withdrawal fees. The minimum withdrawal limit of Bitcoin is 0.001 BTC, and the fee charged is 0.0004 BTC. For Ethereum, the minimum threshold is 0.02 ETH, and a fee of 0.003 ETH is imposed.
For withdrawals made to credit cards, the fee charged is 4% plus a $5 flat fee. The minimum withdrawal limit is 20 USD.
The fee structure of WhiteBit is lower than most cryptocurrency exchanges, which provides the platform with a competitive advantage over others in the industry.
Safety & Security
WhiteBit employs advanced security measures to safeguard their platform from any undesirable activity. The two-factor authenticator by Google is used to protect user accounts and prevent hacking. To enable 2FA, users can download the app. You can activate 2FA in your accounts through the "Security" section. Add the 6-digit authentication code provided by the app or scan the QR code. WhiteBit will appear in the application. Enter the authentication code and then press Enter.
Users are also provided with Anti-Phishing measures to add an additional layer of protection. This can also be enabled through the "Security" section. Moreover, the platform stores more than 96% of all their funds in cold wallets. It keeps the funds offline and therefore protects the assets from any unauthorized access or cyber-attacks. The platform also uses a Web Application Firewall that helps detect any hacker attacks and then blocks them.
WhiteBit uses a risk-based approach to prevent money laundering and financial terrorism. The AML/CFT compliance makes sure that all ongoing transactions are monitored to detect any suspicious activity compared to the user's normal activities. This is done on the basis of a subjective assessment.
The customer's KYC and account activity is kept in mind while determining the validity of the transaction. If the transaction seems to be inconsistent with the information available to the system, it is flagged. A compliance officer thoroughly examines it and then makes the final decision whether the transaction will go through or not.
The company ensures that its employees are trained and up to date with all applicable laws and security measures of the system. Periodic training is also conducted to ensure that the staff is made aware of any new practices the company has adopted.
Customer Support
WhiteBit has a customer support service that is available 24/7 without any holidays. Their website is equipped with live chat support where users can ask their queries directly and receive a response in a matter of seconds. There is also a comprehensive FAQ section available on their platform that contains information regarding the basic functions of the platform. It also includes user guides regarding the registration, depositing, and withdrawal processes.
Alternatively, users can reach their support team through email support@whitebit.com . If they are facing some issues regarding the platform, they can send a detailed explanation of their problem and attach a screenshot that shows the error occurring. WhiteBit team is very responsive and caters to its customers' issues in no time.
The company has a strong social media presence on several platforms like Twitter, Reddit, LinkedIn, Facebook, Instagram, and Medium. The company provides its users with product updates and news on these platforms. They also have a blog on the Medium website, which is regularly updated.
Users can also schedule a meeting with the WhiteBit team on the website and have a 15-minute discussion with them on a day that is convenient for them. They are also active in the Telegram community. The exchange has tried to make the trading process easier by providing multi-lingual support. Their website is also translated into languages like Chinese, Japanese, Russian, Estonian, and English.
Popular
In order
Chat mode