bitcastle Christmas Campaign 2020
Dear bitcastle supporter,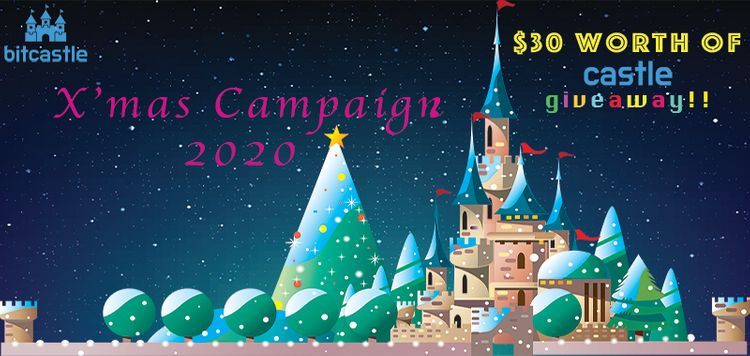 Year 2020 has come to an end where everyone is preparing for the year end event especially Christmas!
This year, starting from *21st 00:00 UTC, *bitcastle will be organising a campaign as a Christmas Party together with all the eligible users world-widely. For this celebration, bitcastle has prepared a nice present for everyone who performs a simple step during the campaign period.
**The Christmas Party is open to all new and existing bitcastle users who meet activity's requirements.
Become one of us. Register an account at bitcastle.
Make a minimum 0.001BTC deposit to your bitcastle account.
Yes, that is all you need to do to get $30 worth of CASTLE as your Christmas Present to be credited in your bitcastle account. Don't forget to share this joy to your friends and your loved one😊.
Terms & Conditions:
This campaign is open to everyone.
Campaign period: 21st 00:00 UTC — 25th 23:59 UTC Dec 2020
ONLY deposits that are performed within the campaign period will be counted.
For those who are new to bitcastle, please register yourself at [https://bitcastle.io/?ref=A9XmtRn&utm_source=BCE&utm_medium=2020&utm_campaign=Xmas] Deposit as per the campaign rules, you will be eligible to receive the rewards.
For our existing users, Deposit as per the campaign rules, you will be eligible to receive the rewards.
Please note that you will need to complete your KYC verification to perform trading and any other transactions in bitcastle. Please read our Terms and Use.
CASTLE token will be distributed at the end of Dec 2020. The value of CASTLE may different in which will be determined during the distribution time.
Participate Now!! (https://bitcastle.io/?ref=A9XmtRn&utm_source=BCE&utm_medium=2020&utm_campaign=Xmas )