What is Multi-chain NFT marketplace - a Beginners guide
Table of Contents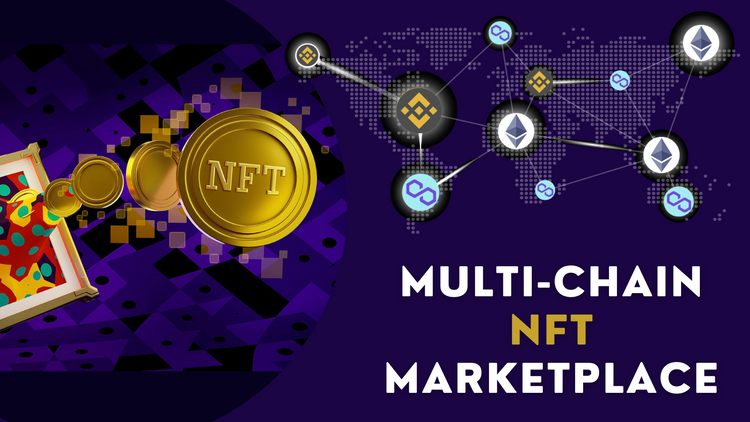 NFTs are digital representations of assets. They are available on NFT marketplaces. These marketplaces can be created using any blockchain technology. Each blockchain technology comes with its own pros and cons. The concept of NFT platform development on multi-chains was created to allow NFT creators to build their collectibles across multiple blockchain networks.
What is Multi-chain NFT marketplace?
Multi-chain literally means that an NFT marketplace is built using multiple blockchains, allowing for interoperability. There are currently no multi-chain platforms. This is your chance to make the most of this opportunity and launch your white-label multichain NFT marketplace.
Investors from all over the world are showing great interest in NFTs and hoping for good fortunes. While the existing NFT Marketplaces are great, they lack interoperability due to the restriction of blockchains which can support NFTs.
This is where the Multichain NFT Marketplace development comes in. Multi-chain NFT Marketplace Platform's mission is to build and mint NFTs across different blockchain platforms. Multi-chain systems should be compatible with all other blockchains. The multichain system's infrastructure would thus be flexible and highly efficient.
The top Blockchain platforms that support Multichain marketplace:
As of right now, the Multi-chain ecosystem supports four different blockchain networks. These are discussed in the following, along with pertinent exposition.
Binance Smart Chain (BSC):
The Binance smart chain may run parallel to the Binance Chain. To facilitate NFT creations, it uses Smart Contracts and Token Standards in the same way as the Binance Chain. BSC has the lowest transaction fees and fastest transaction speeds in the blockchain industry. It also uses the proof-of-stake consensus mechanism, which is highly manageable for overall business progress. It is a strong network that has been responsible for many NFT project success stories.
Ethereum:
Ethereum is well-known for its contributions to NFTs. It secures individual data through the decentralized nature of blockchain technology. An international network of computers systematizing the network through a distributed consensus majority agreement, the Smart Contract. As a consequence, the network's computing power would be increased by one or more network participants.
Solana:
Solana is one of the top-performing crypto-assets in the NFT world. Solana's ecosystem is extremely capable of adding a block to the blockchain in under 600ms. Because of its hybrid protocol, it is able to reduce the time required for validating smart contracts as well as other transactions in the business. The NFT Marketplace's seamless action is an example of its speed, which motivates many people.
Polygon:
The Polygon (formerly the Matic Network) is the next scaling alternative to Ethereum. It can be used to build on an existing network of blockchains instead of building its own. While it is not considered a blockchain in the traditional sense, the polygon accomplishes the same tasks as conventional blockchains. It is a stayout network thanks to its unparalleled profitability and the capability of processing thousands per second.
In addition to these, it's important to know what the future holds for multi-chain NFT Marketplace for startups. Explore the relevant.
Future of Multichain NFT marketplaces
Many successful Decentralized Finance companies have already started to focus on creating Multi-chain NFT Marketplaces. They aim to address different aspects of NFT Market like compatibility, maintainability and energy consumption.
It is significant that until the Multichain NFT Marketplace addressed interoperability (a feature for NFTs), it was a huge challenge. Now, users can swap NFTs across different blockchains with ease by enabling cross-chain interoperability via the Multi-chain NFT Marketplace.
This empowerment of the Multichain NFT Marketplace will be a significant drive to increase startup achievements in the NFT industry in the future.
Launch Multichain NFT marketplace:
It's a brilliant idea to launch a Multichain NFT Marketplace platform in the NFT space, especially considering the large demand from crypto-enthusiasts. It is crucial to building a multi-chain NFT marketplace that is in line with current trends. Keep in mind that these features are vital for creating a user-friendly NFT marketplace website.
Interoperability
Fast transactions
Smart contracts
Lucid user-friendly
Search filters
Liquidity generation
Real-time price display
Extra liquidity
Transparency
Cross-platform support
Advanced security
All these cores will make the multi-chain NFT Marketplace development and launching so powerful. It will engage a high user base and quickly generate trading value for the business.
Conclusion:
Multi-chain NFT Marketplace websites have seen a boom in NFT. This facilitates the most desired feature as well as maintainability. It is clear that the Multichain NFT marketplace development and its launching now will prove to be so profitable for entrepreneurs with high trading and user values.