Are all your friends getting rich with NFT's?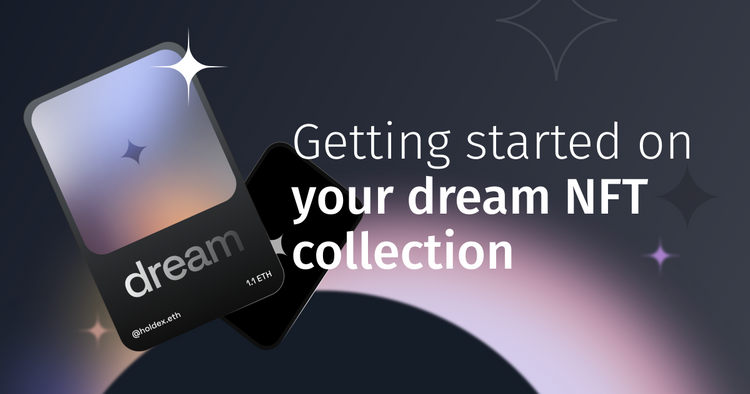 You may be experiencing FOMO because you have a vague dream about an NFT collection that could work out and make you millions. Still, you have no idea how to navigate this new arena that you barely understand. Honestly very few individuals do. And guess what? Those that do aren't next door. I will tell you that if you decide to enter this crazy market you better stop being naive and prepare for war. When starting out in this game it will never truly end. After this quick wake-up call I will offer you some tea and start rambling about things that can work. Of course at some point, I need to say that nothing written here is financial advice and we are all on our own. Sr. Market is in charge of teaching everyone the hard lessons sooner or later.
The Dream
Imagination is a mysterious feature of our brains that very few intellectuals understand enough to explain. I'm not the man for the job. I'm here to guide your killer execution of that 5-star idea; that may do well. Who knows? Be ready.
Do you remember all your ideas? Probably not. If that's the case, you might need to write it down somewhere, a napkin? Hum… let's call it a Whitepaper; we are fancy here ;). Please do yourself a favour. From now on, every time you dream or think about this idea, have that paper nearby and write, edit or draw. Now your job is to make sense of the puzzle in a few words to illustrate and extract the most profound meaning of your writing.
Why is that so important? Let's put it this way: if you can't explain this fantastic idea to yourself, why would anyone put their money in it? It won't happen. Don't be lazy and start shaping your thoughts.
Meanwhile, you must look for a good team who you can convince by sharing your vision draft.
The Plan
Now you are a leader, then start leading! Let your vision and whitepaper guide you and provide your team with the perfect plan that probably won't be followed but is constantly adapted.
Define a roadmap with modest and realistic goals and tune yourself into the over-delivery mode (community management, thank me later).
Evaluate your idea by sharing it with others in different ways.
Put yourself in the place of a first-time user and come up with the most basic questions your solution should be able to answer. This gives you a good idea of your vision and how to shape it. Remember that their doubts are also about the core technology concept and not only your amazing collection. Think about this as an exercise.
A few examples:
Why should I buy an NFT? Why yours?
Can your NFT's be copied?
Why are NFT's so expensive?
Did you get good feedback? If so, go on. If not, rethink and adapt.
Legality
Get legal documents and opinions.
Important stuff, right? Do I need to explain why? Ok, ok. It's always better to define the terms of everything before they take-off. With success comes greed, copyright infringement, privacy issues... you got it, ask for help. Few items here:
SAFT agreement, if you are planning to onboard an investor.
Privacy Policy
Disclaimer
Legal opinion about the project and best jurisdiction for legal entity incorporation
Legal entity incorporation
Advisory agreements
Other agreements (partnerships, employment, etc.)
Advisors
If you are reading this, you will need them. When trying to pick the best out there you should look for someone with experience in the crypto market with a great reputation. Use any available tool to check their background; word of mouth in the crypto network typically brings you the best results. Anyone can fake a profile, right? This will help you by giving more structure to your plan, dream, desire... see?
Marketing
Marketing strategy is a crucial part in planning and budgeting.
Here is a short list of the things you will need to consider for consistent results:
Social media and community management
Influencers (key opinion leaders)
Ads
Airdrops and Bounties
Articles
Whitelists
AMA's
Where Should You List?
After you define the vision for your product you will need to make the decision on choosing the correct marketplace for your NFT collection launch.
Each platform operates in different ways and networks (ETHEREUM, SOLANA, TEZOS, etc).
It is essential to understand your collection's target audience and entry price point.
The transactions volume together with other markets data should be observed, artcentral.io will help you with that.
Constant planning and strategy are essential.
Below a few marketplaces currently available.
The Execution
Are you done with your homework? Go and make sure everyone on your team knows how important it is. It's GO time! Your new motto is "KEEP IT SIMPLE and ADAPT" until the next mile of your roadmap. Then again, remember it never ends.
Tools? Use them All!
By using the correct tools, you will achieve great success. The only thing to bear in mind is to repeat your motto every day! "KEEP IT SIMPLE and ADAPT!". Make sure you have a team member constantly taking care of social media and PR.
Reddit
Engaging with Reddit users can be powerful. Many experienced crypto users go there to find the next gem; why not your collection?
Discord
A great and powerful tool, if not misused. How many Discord channels nowadays can you handle at the same time? There are some excellent tools to filter the market noise, but most participants don't have them. So your job is to help your community. Follow these golden rules for your community.
ORGANISED
FEW RELEVANT CHANNELS
ACTIVELY MANAGED
GOOD QUALITY CONTENT
good example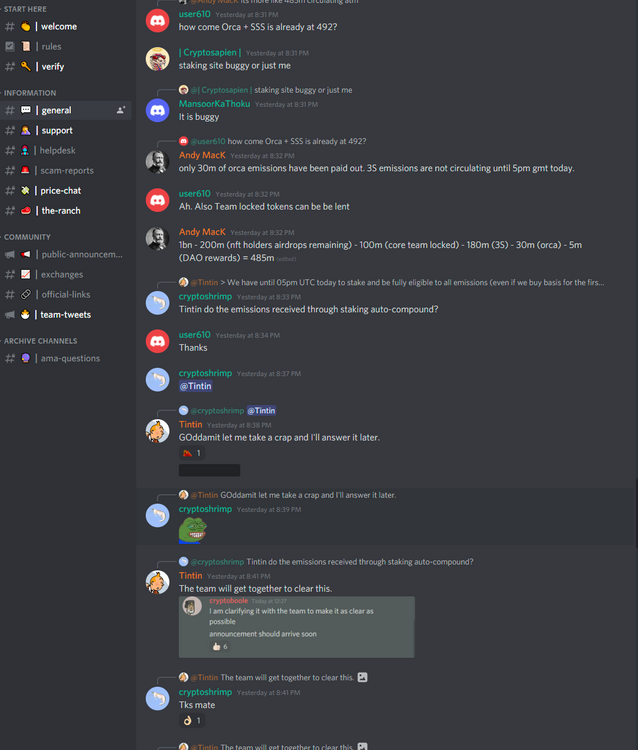 poor example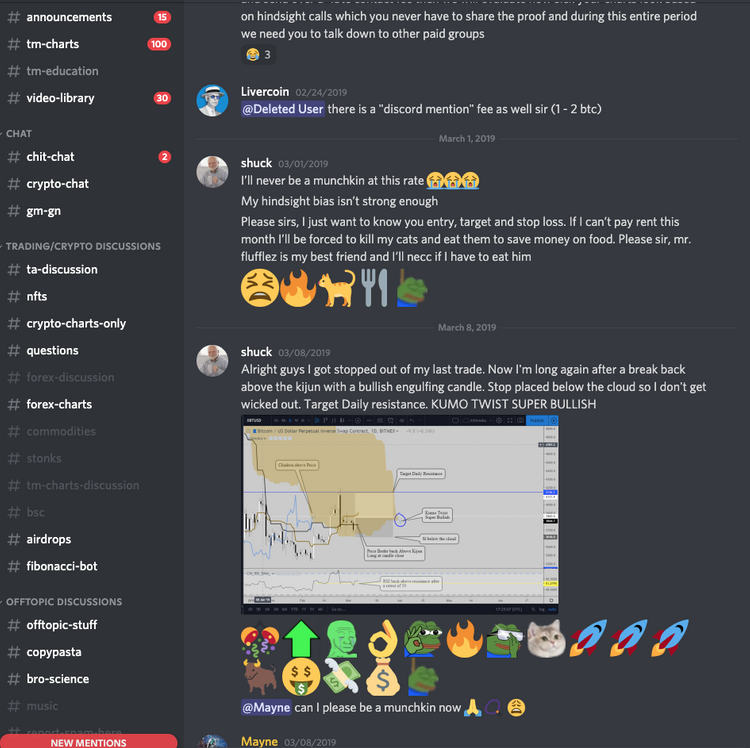 Twitter
Be the face of your product, target the community you have in mind.
You can add a short and precise description of what your collection is about.
Again, clarity and simplicity are essential. Put yourself in your audience's place, cut out the noise and stand out.
Engagement
Being present and active in all your channels gives you credibility and free marketing just through interaction, as people tend to share what's hot and energetic.
Expansion
Your community is your voice; they will do the job if you are serious about your commitments and goals.
Hype
The community will always crave news and updates. At any vital moment, never forget to share as much as possible and be very careful with the interactions you start. They can be tricky. Be consistent
Precautions
You are not alone. Ask for help and search for proven methods.
Careful out there; crypto is a very fertile market for scammers. Check on everyone approaching you and your project, document every agreement.
Are you in a hurry? Forget about it. Follow your plan instead and keep building.
Contact us
Did I forget something? I hope this helps, if not, contact holdex.io for more.
Enjoy the ride