BitForex exchange: a review

A review of BitForex exchange platform, security, fees and special features.
TL;DR: You can get a summary of this article on its last section
BitForex is a Seychelles-based cryptocurrency exchange, with headquarters in Hong Kong and a distributed team operating across several countries. Their platform is available on Web , on Android through Google Play, and on iOS (manual installation). English, Russian, Korean, Japanese, and Chinese are fully-supported languages while additionally Vietnamese, Turkish, Spanish, and Portuguese are supported on the Web version.
In presenting this review of BitForex, I will divide my analysis into 5 sections, each containing the following salient features of the service:
reliability
security and trading
special features
KYC/AML
summary.
Reliability
According to its LinkedIn , BitForex was founded by Garrett Jin and Jason Luo, together with a team of talents hailing from Merryl Lynch, McKinsey, The World Bank, Microsoft, and Tencent. In mid-2018. BitForex raised $24M+ in an ICO that was reportedly backed by Block VC, Genesis Capital, Node Capital, and the $QTUM and $TRX foundations. The platform claims 3.5M registered users, and certainly enjoys very high web traffic.
Security and trading
No hacks have been reported on the exchange so far.
When testing BitForex's cybersecurity with the Observatory by Mozilla, the result was an F. This is a result that is commonly seen in Crypto exchanges, albeit one that is below-average for a top exchange. That being said, no hacks have been reported on the exchange so far.
BitForex reports as one of its main missions to build a fast and secure platform. To that end, they reportedly store 98% of funds in cold-wallet storage, requiring for approval of transfers the use of a multi-signature wallet with 5 signatures out of the 7 hardware security modules in possession by the globally-distributed team. BitForex claims to keep about 0.5% of funds in hot wallets as strictly necessary by the withdrawal queue in the platform. Besides funds storage security, the platform implements smart load balancing, a distributed server architecture, and anti-DDoS protections to increase performance and enhance security.
The platform is also very fast, reporting 1.6M transactions per second.
BitForex fees
BitForex fees are highly competitive. BitForex does not charge different fees to market makers and maker takers. Whether you use Limit Orders or Market Orders, there will be a 0.10% flat fee. If your 30-day trading volume is above 1,000 $BTC and your balance surpasses 50 $BTC , BitForex will not charge you any fees. This is a great deal, although admittedly only a small percentage will be able to avail themselves of the offer.
BitForex charges withdrawal fees of 0.0005 $BTC per withdrawal. This is also below-average as withdrawal fees hover around 0.0008 $BTC .
Liquidity Trading pairs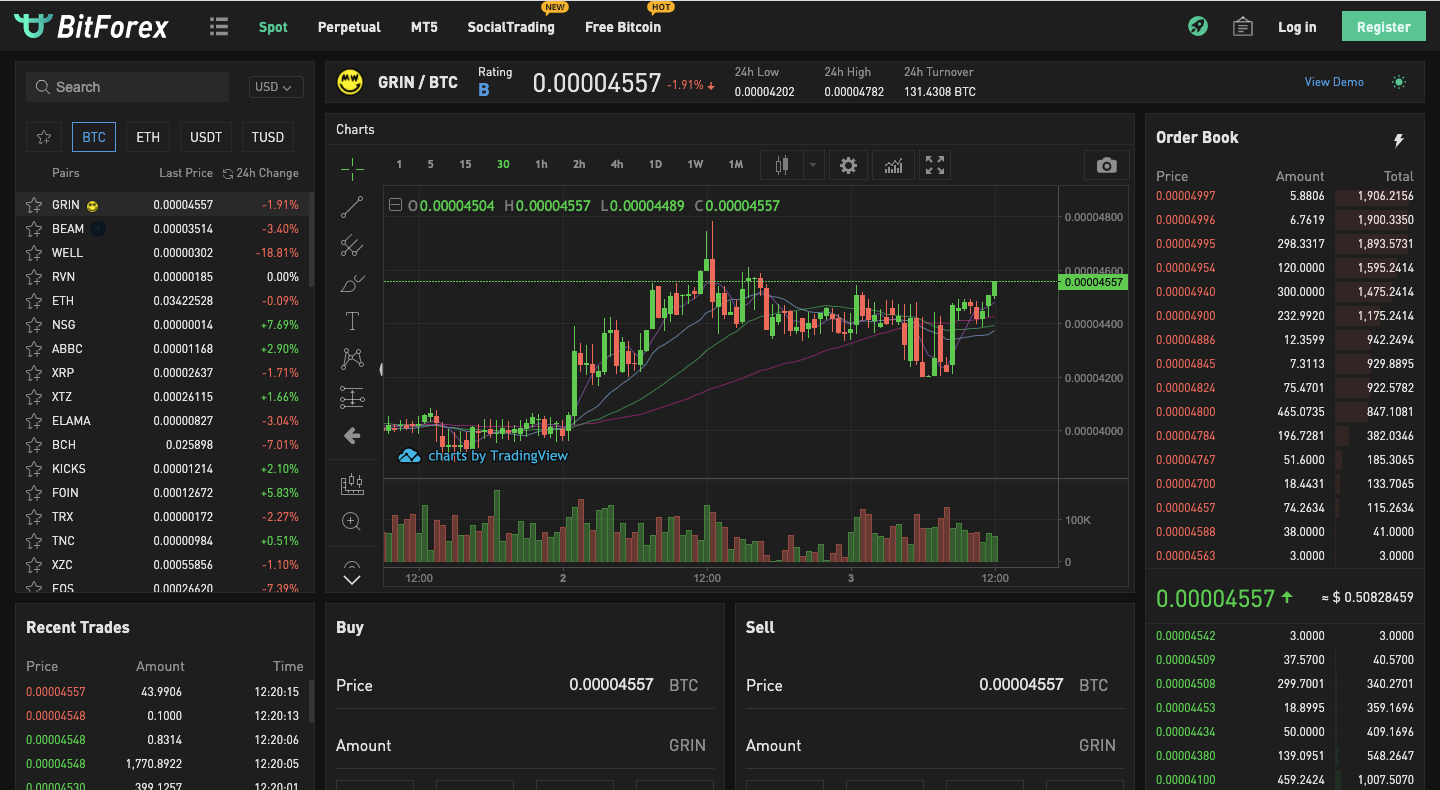 BitForex is a liquid and highly-trafficked exchange. Maintaining high trade volume is an important benchmark in assessing the viability of any exchange. CoinMarketCap has BitForex in the top 10 exchanges, in volume, traffic, and liquidity.
BitForex is well-balanced, its top 5 trading pairs as of today were $BTC /$USDT , $XTZ /$BTC , $ELAMA /$BTC , $TNC /$USDT , and $GOT /$ETH . These 5 pairs account on average for just 21% of the trading volume in BitForex. There are 300+ trading pairs on BitForex, many with very good liquidity, including both famous and rare small-caps.
Besides Crypto deposits, you may use a credit card and other methods to purchase $USDT , $ETH , or $BTC via Mercuryo or $BTC via Paxful — and receive an instant transfer to your BitForex wallet. The fees are up to the provider but these days hover around 3.95% for credit cards and 1% for Paxful.
BitForex for Pro and Business users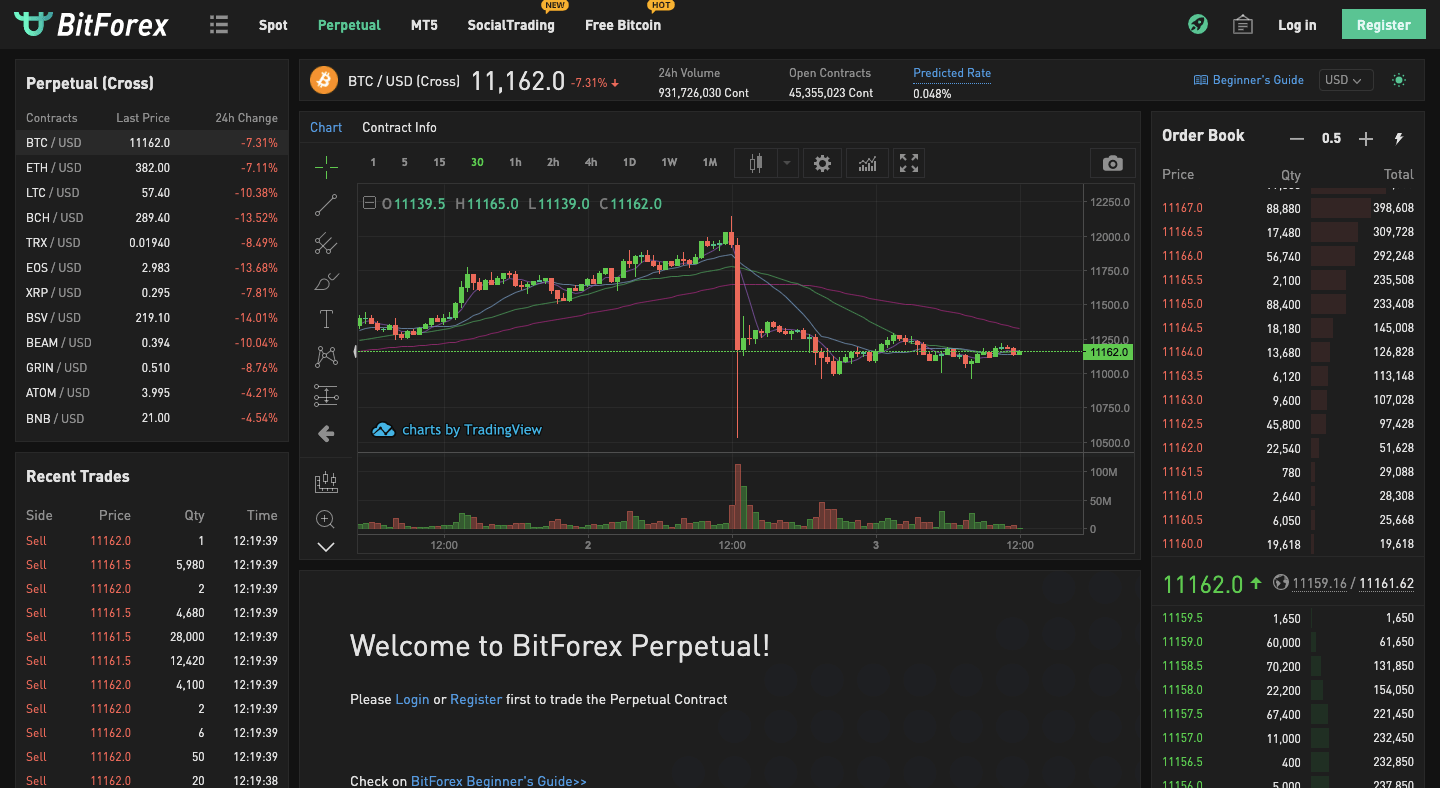 BitForex offers a number of dedicated features for professional traders and Crypto-trading businesses. Uniquely among Cryptocurrency exchanges, BitForex is fully integrated with MetaTrader 5 (MT5). Features like comprehensive price analytics, algorithmic trading apps, and copy-trading that are supported by MT5 are fully available and a trader can easily transfer balances between their normal BitForex accounts and their MT5 account using the BitForex platform. BitForex MT5 supports 300+ trading products available in BitForex via contracts for differences (CFDs) together with forex and commodities.
Margin trading is also available. BitForex offers 100x margin finance for its spot exchange, and 200x for both its perpetual futures exchange and its MT5 integration.
BitForex also offers an API which supports market data collection and executing spot trading orders.
Special features
Social Trading
BitForex has implemented Copy-trading together with a dashboard view of the most copied and most successful traders to copy in its platform. Copy-trading is as simple as clicking Copy-Trade and the trader's positions will automatically be followed and updated to the trader's future movements.
IOU

BitForex supports state-of-the-art projects with great technical and market potential and highly-engaged communities in its Initial Offerings: Unbounded program. The program allows users to quasi-trade the project's underlying Cryptoasset in question before its official launch, via borrow and return actions. Once the project is live, the IOU contracts will be converted into the Crypto Asset. The contracts are collateralized with USDT and users may also trade the contracts against $USDT on the BitForex platform.
Notably, the IOU program has raised substantial capital for Telegram's GRAM and Polkadot's $DOT tokens.
TURBO
TURBO is BitForex's premium IEO platform. BitForex claims an average historical return of 75x for the projects that have listed using TURBO.
KYC/AML
The KYC/AML process is simple and straightforward. Creating an account in BitForex takes a minute or so. Although not strictly necessary, system notifications continue to appear until 2FA is enabled, which is painless with either SMS or Google Authenticator. Thereafter, identity authentication (i.e. verification) can be performed by uploading an ID document like a national ID card, a passport, or a driver's license into the platform.
As BitForex is not registered with the Commodity Futures Trading Commission or any other U.S. regulatory entity we cannot be certain, but it seems as if BitForex may accept U.S. citizens since it is not expressly forbidden.
In Summary
BitForex is a top Cryptocurrency exchange platform that has made a significant mark in the Crypto-Verse. The exchange is committed to providing a streamlined experience for both casual and professional users, and it shows in the quality of the product. Moreover, special features in the platform like social trading, the TURBO IEO platform, and the IOU program further add to the extensive offering of trading pairs. Lastly, BitForex offers professional traders, particularly futures and commodities traders, a unique integration with MetaTrader 5 that allows for seamless integration of Cryptocurrencies with forex and commodity markets.