Understanding Aluna.Social: a review
Understand DeFi trading with Aluna Social's platform for copy and counter-copy trading strategy.
TL;DR: You can get a summary of this Thread at the last section of this document

Crypto trading... is not for everyone. Many have tried to hastily join the ranks of Crypto traders, but without much trading experience, the burn comes sooner or later.
Enter Aluna.Social, a gamified social trading terminal based in Singapore. Aluna was created to democratize the earnings potential of market trading in Crypto, by bringing the model of social trading into the Crypto-Verse.
I will divide this review into 5 sections covering the Aluna.Social's most salient features:
Introduction
Potential and use cases
ALN token
Gamification
Summary.
What is Aluna.Social
At first look, it seems difficult to define exactly what Aluna.Social is as it provides a wide breadth of functionality encompassing two key areas.
On one hand, it's an API trading terminal, capable of aggregating multiple exchanges into one simple dashboard through the use of API keys. It seems like this might raise a bit of a security issue, but don't worry, it's all good — Aluna only has read and trade access to your accounts this way.
The platform currently supports the following exchanges: Binance, Bitfinex, Bittrex, Bitmex, and Poloniex. Users of the platform can integrate all these different exchange accounts onto the platform using their API keys.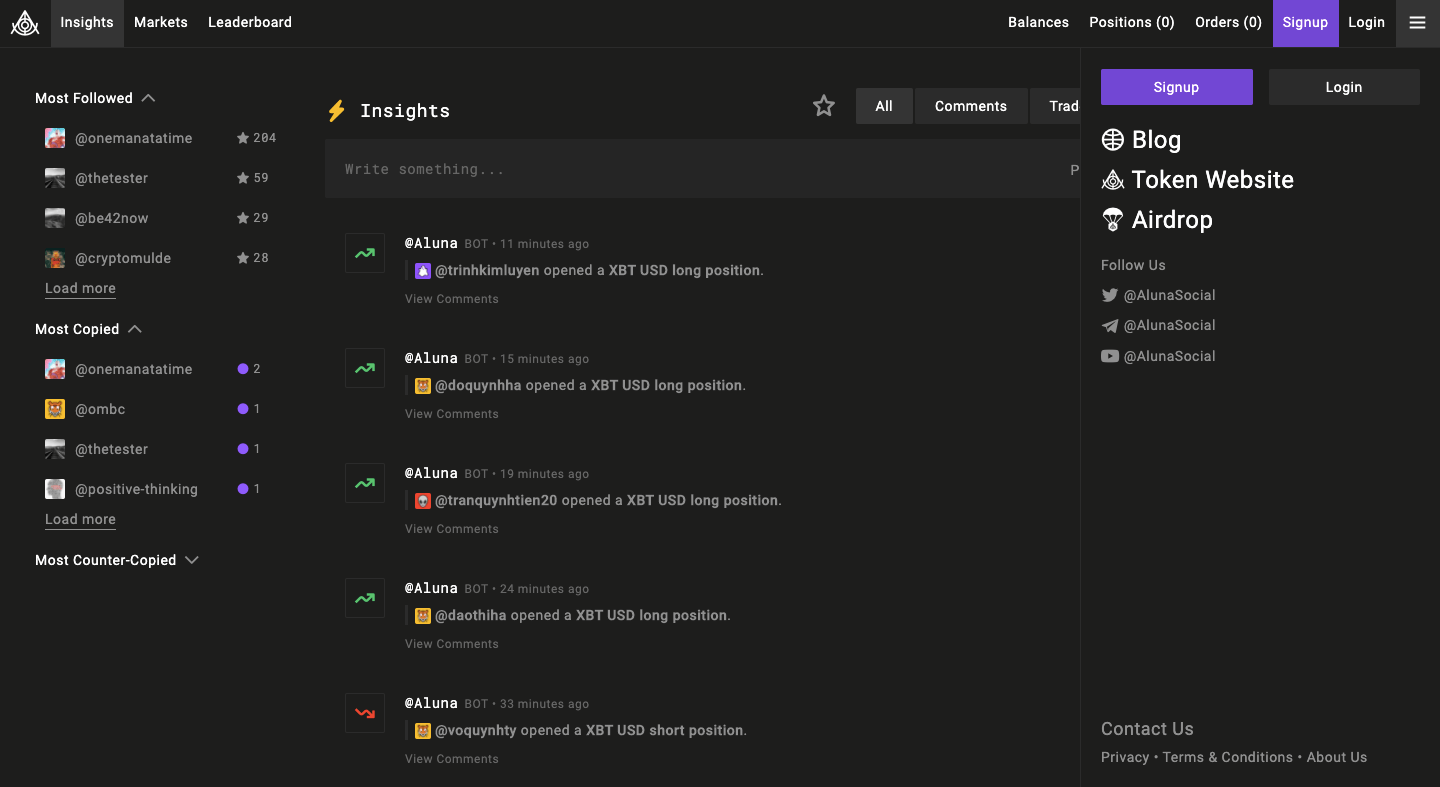 On the other hand, it's a social platform. Right away, when you log into the platform, you are immediately faced with the leaderboard showing the top traders of the week and the best trades of the week. More importantly, you have the feature to Copy and Counter-Copy your favorite traders. A handy list of the most followed, copied, and counter-copied traders is provided, as well as the best and worst trades. On the Insights tab (home page), a feed of when certain traders go long or short is automatically generated, as well as comments by the traders themselves.
Potential and use cases
But, is this only for newbies? Not according to Aluna:
Our vision is to improve transparency between traders, establish a trading community incentivized to share data, to create an environment where traders can leverage positive social feedback loops, and improve their overall performance.
Creating a trading community is not a novel idea. The same thing happened to the original pioneer of social trading, eToro, whose platform came to be used by pro traders to acquire a following and thus increase their profile and earnings. Let us remember that trading, like say political polling, is not an exact science — a community of professionals acts as a system of social checks and balances, and is less likely to get it wrong.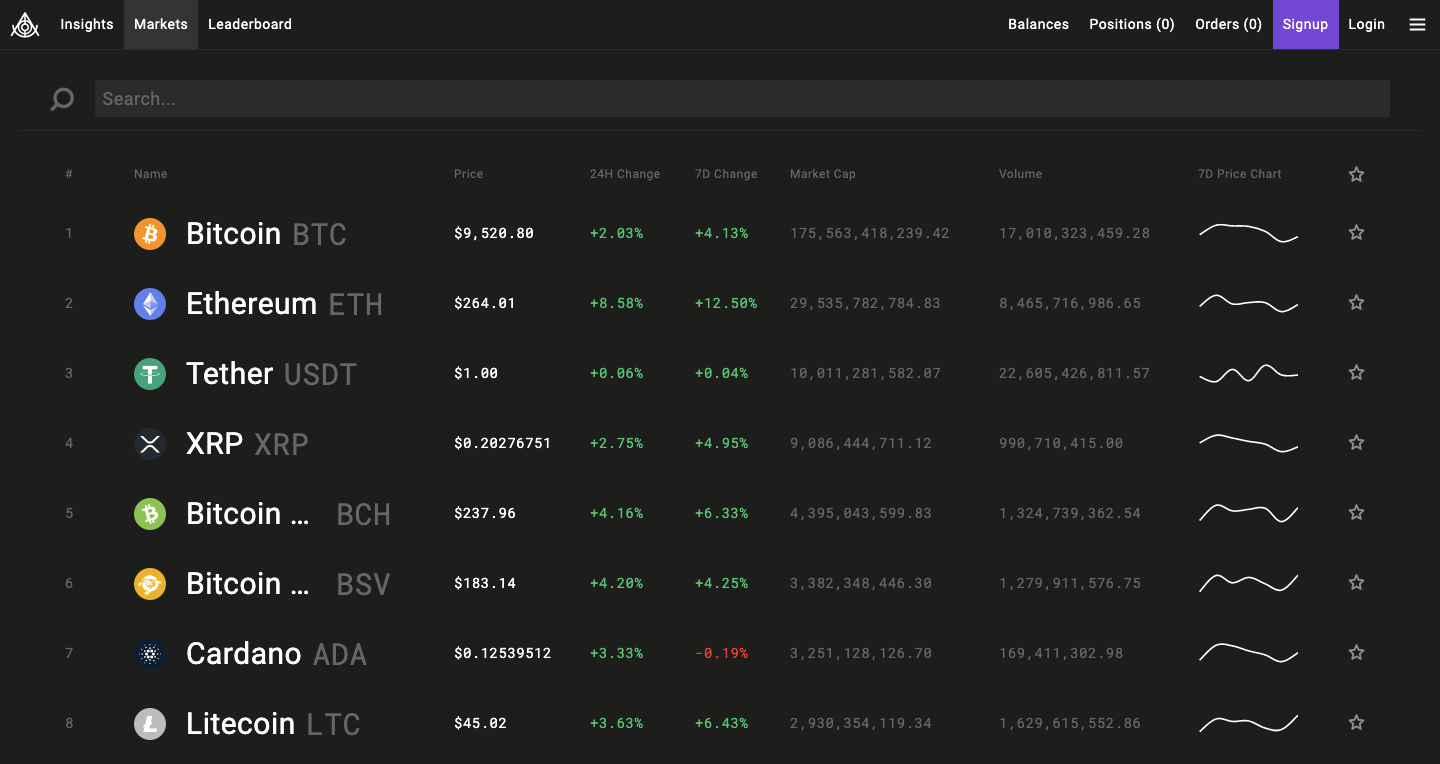 The benefits of social trading are readily apparent when you go to Aluna's Markets tab. You will immediately notice the CoinMarketCap-like feel. However, there is much more social depth. Search and select an asset, and you will be able to see not just a customizable trading view which can be toggled to the exchange and trading pair of your interest, but you can also see traders' comments relevant to this asset, as well as lists of holders and traders active in this asset, their position status, and their active markets. You can, of course, execute a trade on the selected market from this view if you have connected an account from the respective exchange.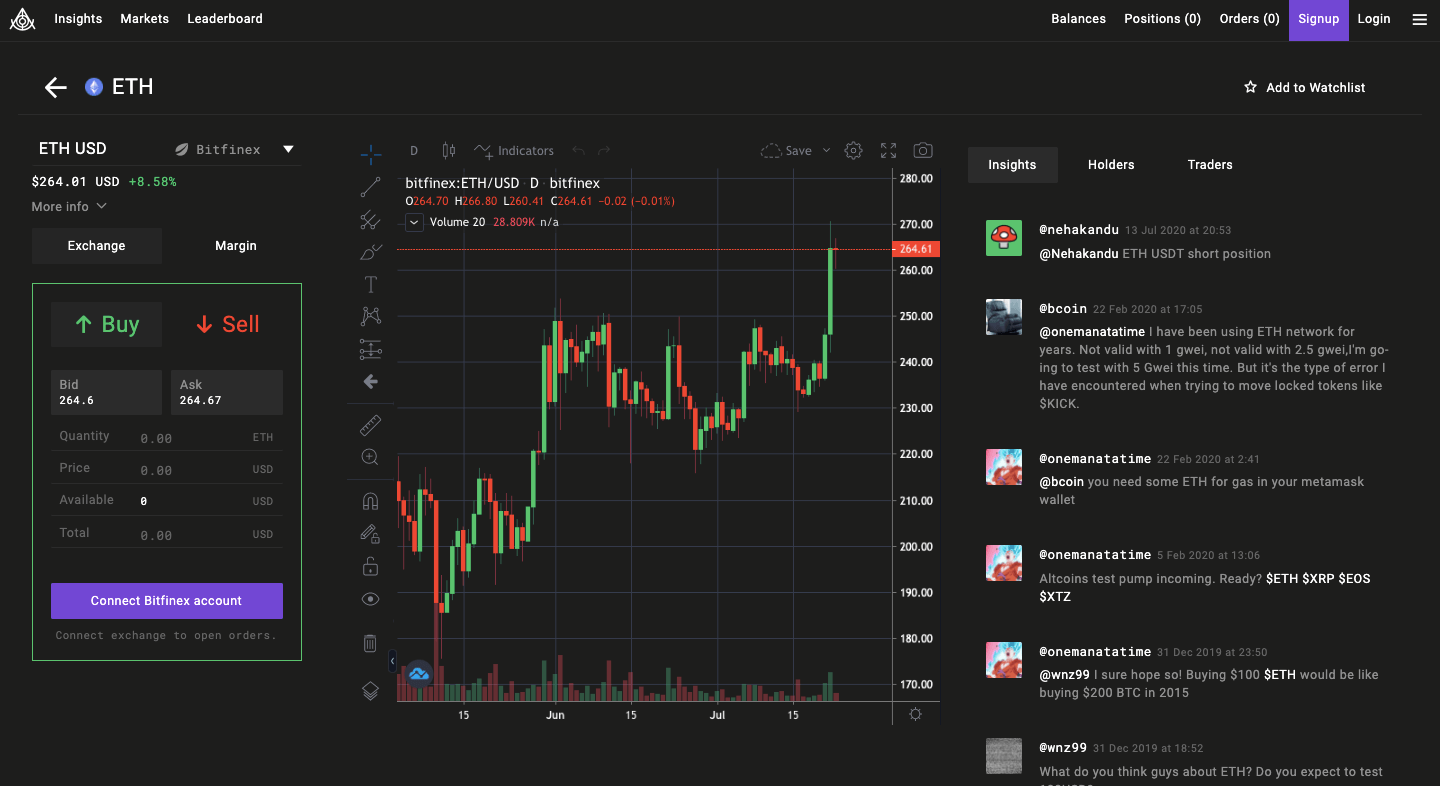 The Aluna Token (ALN)
It would be impossible to explain all the different uses for the platform without explaining the token that comes along with it, incentivizing Aluna users towards active trading and participation in the community.
The Aluna ($ALN ) token is the recently launched native token for the Aluna platform. The $ALN airdrop just kicked off earlier this month in July 2020, with 500,000 $ALN up for grabs to anyone who signs up for the platform and gets to Badge Level 1 on their Reputation System.
Getting to Level 1 was pretty simple - all I had to do was connect a Web3 wallet (their recommendation is the excellent MetaMask wallet!), connect an exchange API key, and finally open a position on one of the supported exchanges' margin markets. Further rewards are possible by completing actions such as inviting friends or participating on the leaderboard.
Crypto Trading that is Social and Fun
The gamification aspect of the platform was the most interesting feature from an experience point-of-view, especially given the relatively dry nature of other Crypto trading platforms. Trading tends to be stressful, so the idea of making it enjoyable is clearly a plus and it's spread throughout the entire platform. For example, Aluna's Web3 prediction games reward traders for making the 'best' and most accurate trades on the platform.
The $ALN token provides even more opportunities for traders to earn while also learning more about the community and market sentiment within it. To illustrate this, we can look at another fascinating use of gamification on the platform, which is the ability to wager $ALN tokens in pari-mutuel pools.
All in all, following the best traders on Aluna and copying (or counter-copying!) their trades is a highly enjoyable exercise that allows both Crypto noobs and pros to learn from the best while also maximizing the value of their own portfolios.
In Summary
Using Aluna Social was an illuminating experience, and the platform's potential was clear. It is somewhat hard to believe this platform is still in beta, as it already allows for quite a bit of functionality connecting not just 5 exchanges but social media like Twitter and Telegram (from where you can trade via a bot). We can only expect this product to improve. There is already enormous utility in Aluna.Social, particularly if you trade in one or more of the supported exchanges. So go try and while you are at it score some $ALN along the way!