Lumiere is now powered by Holdex
Holdex and Lumiere are joining forces to empower the next phase of film industry disruption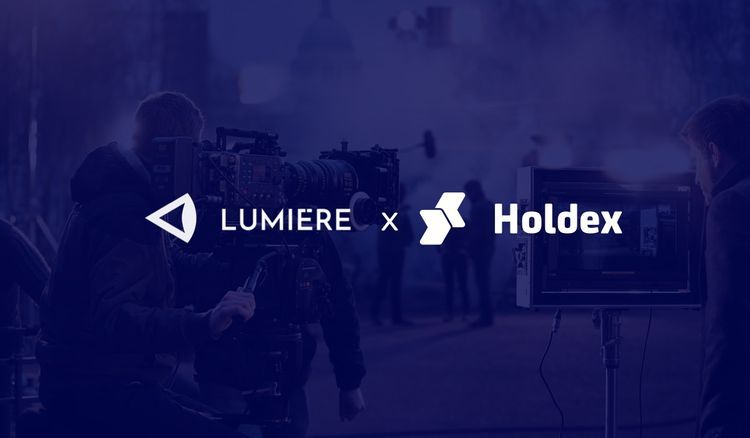 Holdex is announcing another exciting partnership. The goal is to make the Lumiere vision a seamless path to success with Holdex expertise.
Lumiere revolutionizes the film industry with blockchain-powered solutions that bring entertainment IPs, movie professionals, and fans together.
Lumiere is building the Lumiverse, an integrated NFT-powered metaverse, that develops next-generation solutions for the age-old problem of transparency in film financing.
The word on the street is that the Lumiere is the chosen one by all the very top global brands like RollingStone, RS Productions, Variety, The Cannes Film Festival, as being the gateway to industry disruption. With nothing less than the biggest players in the industry such as Animoca Brands already backing the project, an impressive number of A+ clients are flocking to the platform to be early in the fast-paced crypto industry.
On Lumiere 's metaverse platform, professionals and audiences alike will connect through immersive experiences. They will also start transacting and collaborating on creative projects together in a trust-based context, bringing the advantages of decentralization to the creative industry and involving audiences in their favourite films, animations, series, and immersive shows like never before.
There is very exciting news to come. On April 14th, 2022 It was announced the investment made by Animoca Brands and Brinc into Lumiere was just announced. Other respected names such as RollingStone Italy, The Sandbox, brinc, Decentraland, Versus Entertainment, Holdex and Variety backed the vision of the project.
Don't miss the NFT sale!
A series of events and highly curated NFTs are coming soon, we are talking about high-calibre brands like Kenzo Takada, RollingStone, Variety, Cineverse, BlockbusterDAO, Decentraland and much more, which will be featured at The 75th Cannes Film Festival from May 17-28, 2022.
Join our social media to engage with the community and stay tuned to see what is coming in first-hand. NFT drops details, White-list information, will be published in the respective channels.
Lumiere's social media
Holdex's social media