Understanding Pillar: Protecting Your Data
Beginner's guide into Pillar multi-chain self-custodial wallet.
TL;DR: You can get a summary of this Thread at the last section of this document
In today's world, data is every consumer's most precious commodity. Within such a short space of time, we've gone from simply buying products to becoming the products ourselves — it can seem like every corporate overlord and their dog is trying to get their hands on our invaluable data.
This is where the Pillar Project comes in. It's one of the most fascinating projects I've seen in the last few years and they have made some astounding progress towards their goals. They've recently released their Smart Wallet on both iOS and Android and I've had a blast exploring the possibilities within the application.
Pillar is a Crypto wallet, sure, but it's also a platform that is leveraging its own native Pillar token in a drive to eventually become a 'personal data locker'— "a secure storage area for each individual's personal data" in Pillar's own words. In this article, we're going to go over how Pillar works, what they're trying to achieve, and whether it is a good fit for the average Crypto user.
Reliability
The Pillar Project has been around since 2017 and is currently headquartered in London, England. The Pillar smart wallet is a relatively new release from them, having just hit both the iOS and Android market in May 2020. The app itself seems to have a good level of security, and offers users the opportunity to further protect their wallet with Biometric ID or Face ID.
Pillar Payment Network (PNN) supports meta transactions. These transactions are free once the payment channel is open (this is a normal on-chain transaction, just as closing the channel). Outside of PPN all transactions are on-chain and aren't free.
Pillar wallet is a web3 wallet, supporting Ethereum and ERC-20 tokens . But as for today, Pillar also supports Bitcoin and other Blockchain protocols are supported via $WBTC . Pillar partnered with Ren Protocol ($REN ) on offering an easy on-ramp for non-ETH or ERC-20 holders to deposit their coins at the gate and get their wrapped/tokenized equivalents, allowing a quick and seamless onboarding into the world of DeFi.
Purpose
Pillar is all about giving control of data back to users. This can be seen in many facets of how the application is designed, such as the integration of WalletConnect. This allows for users to use the Pillar Wallet with other Web3 platforms in a simple and secure way, without having to share your private keys with them.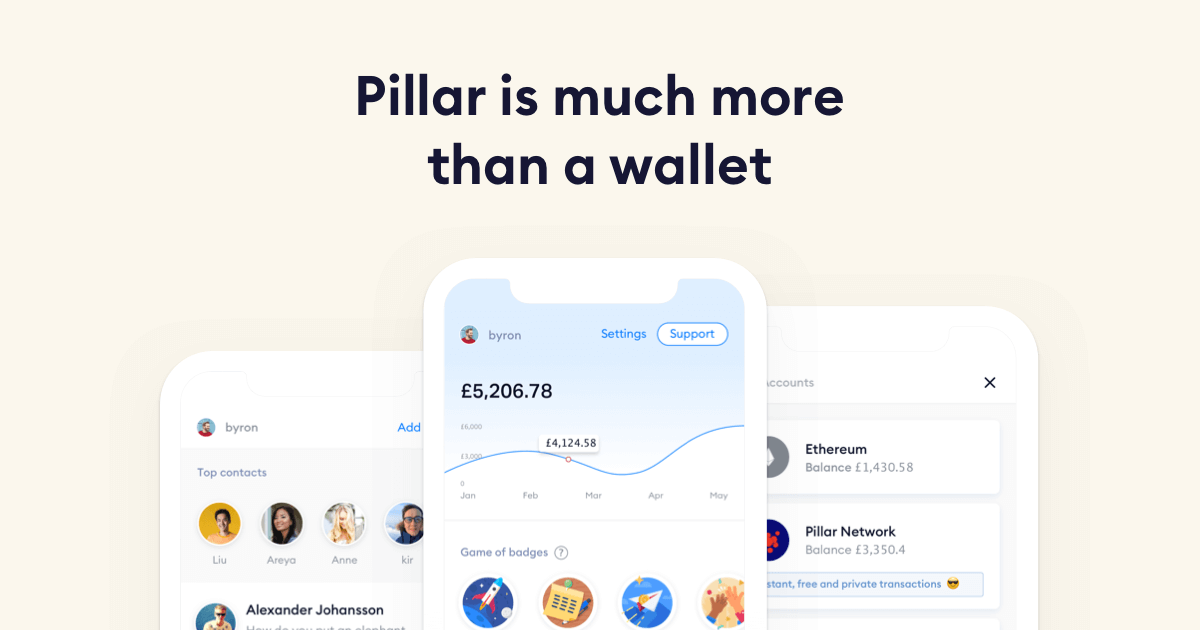 PLR Token
The Pillar Token ($PLR ) is the platform's native token and the one which powers the functionality of the system. Within the Pillar app itself, it is straightforward to buy and sell $PLR . They've integrated an offers engine within the app, so comparing exchange rates between exchanges is a much-simplified experience. There's also upcoming support for buying PLR with fiat currencies such as GBP and EUR. USD is on the pipeline as well but will probably take longer.
$PLR functions as a 'meta-token' that allows users to engage in transactions with a variety of different platforms without necessarily having to hold any other token type besides $PLR . This works very similarly to a credit card, as $PLR is seamlessly converted into other native Cryptocurrencies upon the completion of transactions.
Community and Badges
Pillar also includes an address book system for users based on $ENS addresses which may include a simple messaging module down the line. Pillar takes their user experience seriously and as it transitions into a community-led DAO model, the product roadmap will naturally see some adjustments based on feedback from the community.
For those of you who appreciate a little bit of gamification in your app use, you'll be happy to hear that Pillar offers some cool badges. It was always a cool little surprise in my experience to be awarded with a badge for completing different actions within the app, however, it would have been nice to have some guidance within the app for how to earn more badges.
In Summary
Overall, I think that Pillar continues to provide a strong and enduring vision for data protection in the future, and I'm looking forward to seeing those features get rolled out soon. It's definitely worth it to keep an eye out for more $PLR Crypto news as they get closer to their vision of becoming a 'personal data locker'.
Pillar has a solid history of delivering on the promises made in its initial grey paper, while also showing strong community engagement on social media. From YouTube tutorials on new core functions to Twitter polls on user experience, it's clear that the Pillar team is fully invested in their mission to bring privacy back to the people through Crypto.