Understanding Wyre: a review
Beginner's guide to Wyre protocol origin, potential, products and future.
TL;DR: You can get a summary of this article on its last section

Wyre runs a developer-friendly Blockchain-based payments platform that aims to disrupt the international payments industry. With 7 years of solid experience in Blockchain payments, this San Francisco startup is now licensed as a money transmitter in 28 states and the District of Columbia.
To integrate Wyre to your Crypto app, go to their website , browse the documentation, and create a Business account.
I will divide this review into 5 sections covering the Wyre's most salient features:
Origin and team
Potential
Fiat on-ramps
Future
Summary.
Origin and Team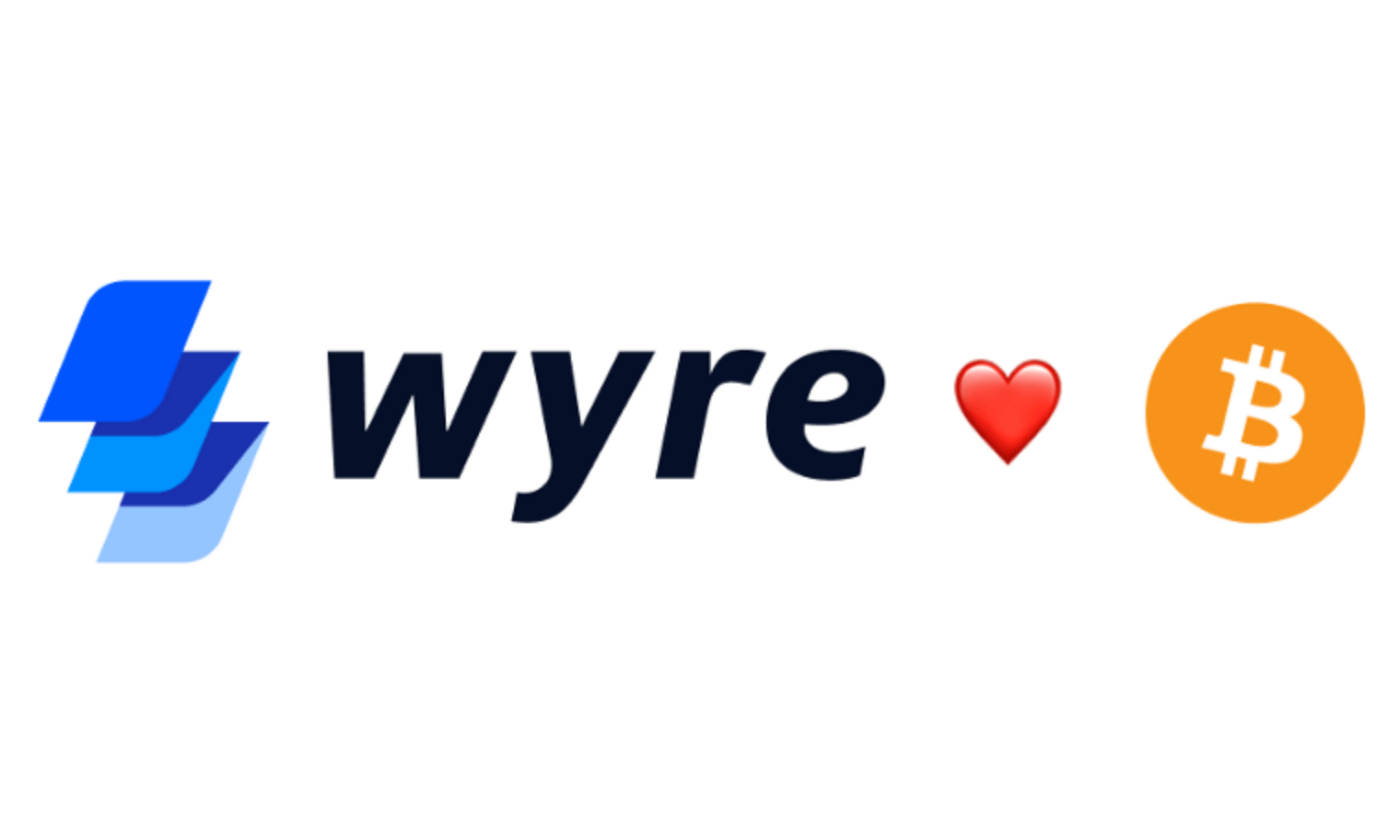 Wyre was founded in San Francisco by Michael Dunworth and Ioannis Giannaros as Snapcard, a Bitcoin payments app that enjoyed tremendous success, eventually advocating for native adoption by merchants of its Bitcoin payments technology. Over the next two years, Snapcard processed millions of dollars in transactions and signed up tens of thousands of merchants, particularly in the United States and Latin America. The idea, similar to BitPay, made sense particularly for developing economies, as the Bitcoin network had significant advantages in fees, transaction speeds, and settlement logistics when compared to credit card operators.
According to CEO Dunworth, Bitcoin consumer payments became a sort of "novelty effect", and regulatory compliance costs increased significantly. Snapcard, despite having consistent growth, decided to rebrand as Wyre and use its Blockchain know-how to provide payments infrastructure to Blockchain businesses.
Fast forward to today and Wyre counts $1B in processed payments, $10M in raised equity from some of the finest investors in Crypto (Draper Associates, Digital Currency Group, Blockchain Capital, among others), and is a U.S. FinCEN-registered money services business (MSB) that keeps all domestic funds in FDIC federally-insured accounts and its international funds in Hong Kong, where it is a licensed money service operator (MSO).
Potential
Wyre offers Blockchain-enabled services that connect the market on the Business-to-Business (B2B) side and also on the Business-to-Consumer (B2C) side. Wyre offers businesses the ability to buy, hold, exchange, and withdraw in $BTC , $DAI , $ETH , AUD, HKD, GBP, EUR, and USD (and other currencies like MXN and CNY with limitations) effectively connecting their bank accounts to Wyre's dashboard. Businesses can also use Wyre's SDK and API to offer their own users fiat on-ramps with their bank accounts and debit cards, which are integrated with compliance and payment processing. Wyre also offers liquidity and over-the-counter (OTC) trading desk services to institutional clients.
Fiat On-Ramps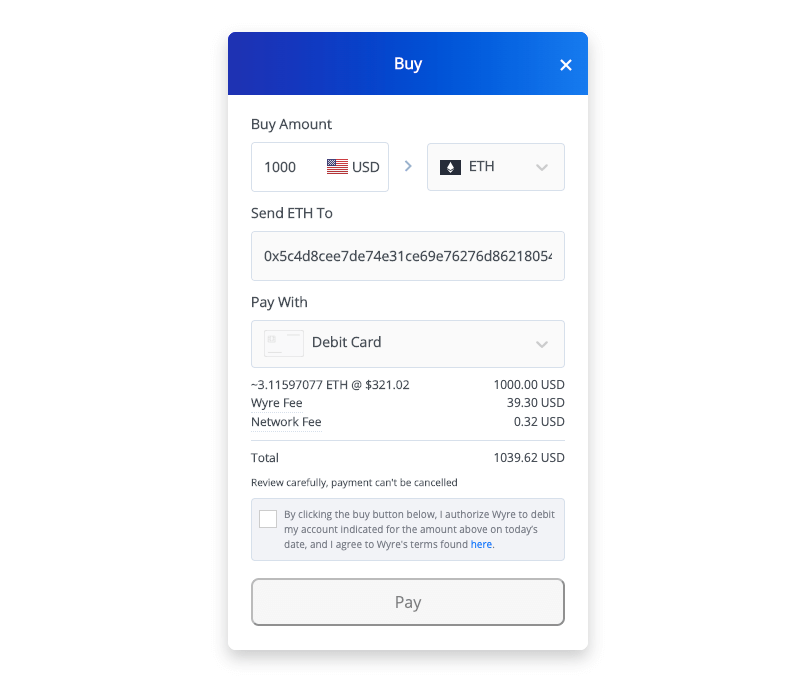 Fiat on-ramps can be enabled via SDK and API. An expected user flow would be to deploy the Wyre widget when a user wants to "buy Crypto", where the user will receive a customizable experience based on the parameters passed by the business to Wyre. For example, on Wyre's integration with MetaMask , the user is able to select an amount of $ETH to purchase, then the user goes through a standard checkout flow to input his card and personal information and gets the $ETH sent to his MetaMask address.
The Wyre widget can be deployed with 10 lines of code, and customized in around a day of development, whereas getting this type of infrastructure built would take a business months. Costs are competitive, with Wyre fees transparently displayed on the widget. Wyre charges 3.9% + $0.30 per for international debit card use, which is live in 20 countries. Using the ACH network the user would see a fee of less than 1%. The Wyre widget also supports ApplePay.
Future
Wyre expects to add EUR, GBP, and AUD to its widget. Although, at the moment, it is not necessary for users to have USD in their bank accounts to use the service as conversions happen in-app. Wyre is also working to increase the limits of $500 per transaction and $2,500 per user, per year.
Wyre is also looking to power more scalability for Crypto businesses through its institutional OTC desk. Wyre does have an advantageous regulatory position and network of partnerships with exchanges and offline liquidity pools.
Wyre is also experimenting with Wyre passes, a one-tap installable pass for Apple Wallets (and Google Wallets coming soon) that allows users to stay in touch with Crypto projects that do not have a native app, while preserving the user's privacy. The user can receive push notifications, for example, to ensure he does not miss a MakerDAO vote.
In Summary
Wyre is an infrastructure provider for Blockchain businesses to connect with the fiat world with a storied history in Crypto-payments from its origins as the Bitcoins payments app Snapcard.
With Wyre, Blockchain businesses are able to conveniently integrate highly-customizable fiat on-ramps into their onboarding flows, at attractive rates for their users. This use case is extremely powerful and attractive, as it saves considerable time to development teams that should be focusing their time and efforts on the Blockchain. Some of the biggest projects in Crypto, like MetaMask and the Opera browser, Ledger, Brave browser, Rarible use Wyre for their fiat on-ramps.
As a resourceful team, Wyre will continue to leverage its capacity for solid product development, its strong network of partnerships, and its licensed positions to expand the functionality and usability of its fiat on-boarding ramps and liquidity solutions to make Crypto apps ever more useful and relevant to the everyday user.