Why apply
What blockchain startups we want to accelerate at Holdex and why to apply for it.
Important: want to apply with your own project? Please submit your application here .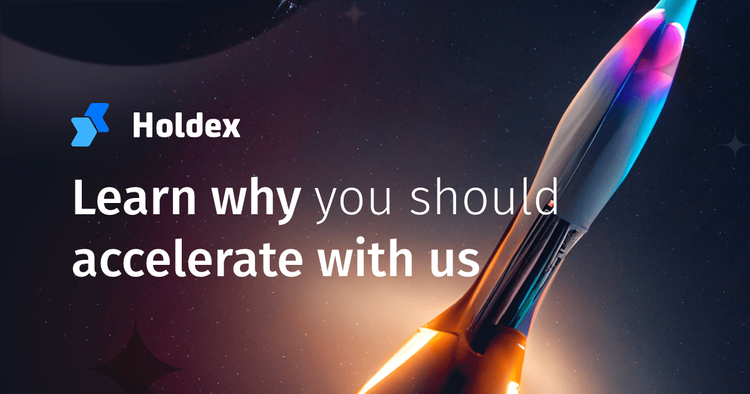 Introduction
Believing in the companies of the future and their founders has always been hard, especially within the emerging market of blockchain, decentralization and cryptocurrency.
At Holdex we strive to be the first true believers in the founders of tomorrow when others do not understand them yet.
Those founders who partnered with us have recognized the impact of leveraging our blockchain expertise, strategic partners and industry experts network. We are proud to present these founders and route them to the best opportunities.
We connect selected blockchain startups into a comprehensive network of capital partners, strategic advisors and developers. Through our solid relationships and deep blockchain knowledge, we create opportunities and maximize outcomes for capital raising and building successful crypto companies.
What is Holdex
Holdex is on the mission to accelerate development and adoption of blockchain technology as part of the decentralized future. By accelerating promising projects in crypto space, we support their founders by bringing true value, developing long-term partnerships and helping them grow. With a leadership team that has decades of investment and trading experience and strong business execution, we are committed to the success of startups we accelerate .
Selected founders whom we partnered with, have acknowledged the powerful impact and advantages we unlock through our network. The main values Holdex adds to blockchain startups are:
Co-creating and advising
Connecting with the right partners and providers, including VCs
Helping with secondary market creation and liquidity provision
We are committed just to a selected number of founders and are actively using our network to help them evolve. Most of the startups that we have been engaged with are still operating and some of them became very noticeable and well recognized in the category. You can have a look at the list of our latest blockchain projects that we accelerated.
What we are looking for
There are many great companies that reached out to us. Yet, we had to turn down quite a number of startups we wished to accelerate and that is really a heartbreaking thing to do. We aim to have a very pragmatic approach with core selection-related principles. Don't get discouraged, if you were not accepted the last time you have applied. Remember, no investor knows your product potential better than you do. Keep pushing and apply again in the future. We'll be happy to admit our mistakes and bow our heads to an awesome product your team created.
We review each and every application. Here's a hint on what we pay attention to:
Problem-solution equilibrium. There are many problems in the world. There could be even more solutions to these problems. Some problems are real. Some problems are fake or just not painful enough. We choose real and painful problems which must be solved.
Convincing teams. Every team is different, with its own background story and advantages. But we trust just a few personal and collective indicators when it comes down to the winning startup teams. These main indicators are: personal and team values, domain knowledge and experience, and ability to fail and recover very quick.
What we are skeptical of
"Skeptical" doesn't mean you shouldn't apply, it's just about those ideas which would hardly convince us and our investors' network. We recommend giving your product a non-biased examination so that you can be prepared when we ask about a problem you are trying to solve. If your customer doesn't have pain points, if it's a mild or infrequent problem, the probability is high that such a startup isn't going to succeed. The main red flags are:
Projects or ideas that don't benefit from the advantages of using blockchain technology. Not all problems are solved through blockchain. Blockchain for the sake of blockchain isn't going to work, it can make things even worse for the customer.
Big vision without a practical plan. Founders with big visions are always inspiring but just to believe is not enough to succeed. Great founders are known for having an ambitious and realistic plan when the next milestone is achieved step-by-step.
Tokens that don't have real utility value and demand users to buy them. Giving out tokens to people doesn't just come with a desire to buy them. If your customers don't see the real utility in your token, it will also be hard for us to do it. It should be easy for everyone to understand where the value comes from.
Community & Network
If you are in the ideation stage or already building an MVP, it's always a good idea to find people who think alike. The community around Holdex is made up of founders from all across the globe and over 100,000 individuals with a wide array of skills and connections. You never know whom you can find, your first customers, backers or even new talent! Just apply with your startup .
What is the process
The application process is very straightforward, just follow these two simple steps:
Apply with your idea and wait for our feedback and instructions;
Follow our instructions to get the value you are looking for.
You don't need to worry about connecting with the right partner or person. When you complete the application, you already get noticed.
If we don't choose you or you choose not to partner with us, our doors will still remain open for you. So, when you have another great idea, we'll be happy to hear from you again!