List of DeFi tokens, apps, and tools
Community-curated list of DeFi tokens, tools and apps for beginners.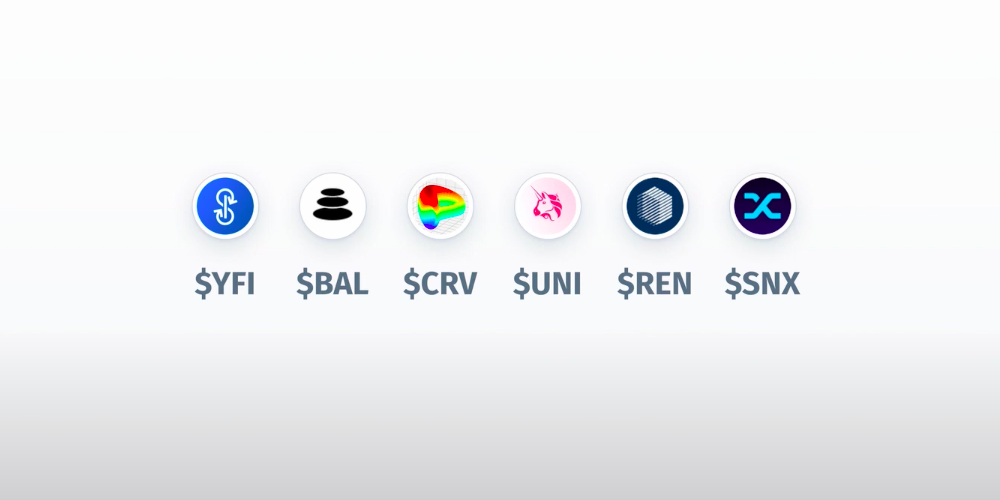 TL;DR: We have compiled a list of crypto-tokens in the decentralized finance (DeFI) space, together with a list of DeFi wallets and tools and DeFi scores, ratings, and other lists to help users navigate the DeFi space. This is a community-curated effort.
DeFi tokens
We are considering as DeFi tokens those that fall in the category of governance tokens, the tokens that grant voting rights and economic rights in different DeFi protocols. Often, protocols issue other types of tokens, for example:
currency, commodity, and utility tokens like the dollar-based stablecoin

$DAI

, Bitcoin-in-Ethereum representations like

$wBTC

and

$renBTC

, and ether-as-ERC20 like

$wETH

.
interest-bearing tokens that track a user's position in a lending pool.
liquidity pool tokens that represent a user's share of a liquidity pool.
vault and index tokens that represent a user's share of an asset-management vault or an auto-trading index.
synthetic assets like representations of off-chain assets, shorts, and even futures that are not backed by correlated assets in custody.
Governance tokens are often associated with:
voting on protocol changes and upgrades, usually called improvement proposals (IPs).
electing signatories to a multisig, a wallet that often acts as a board of directors by retaining access to protocol funds and permissions over key protocol controls.
rights of participation in a decentralized autonomous organization (DAO), a governance vehicle set up according to rules encoded in the protocol. Not every DeFi protocol will have mechanisms for these, especially at the beginning, but most DeFi roadmaps include all these as ultimate goals, exemplified by the phrase when DAO?. Concepts like liquid democracy and protocol politicians are also associated with governance tokens.
This is an Ethereum-based list. Though DeFi is not exclusive to Ethereum. At the moment, DeFi at scale exists only on Ethereum. We will expand our list as DeFi at scale reaches other Blockchain ecosystems.
$UNI

: Uniswap's governance token

Uniswap is, today, the decentralized exchange (DEX) for the whole of Ethereum. Pioneering a viable automated market maker (AMM) model as a DEX, Uniswap allows adding liquidity and creating markets for any pair of ERC-20 in a truly trustless and permissionless manner. Becoming a liquidity provider (LP) in Uniswap is a way for anyone to earn trading fees and is the entry point for many liquidity mining programs as well. Uniswap had no community governance mechanism until it introduced $UNI on September 18, 2020, via a massive distribution that the Crypto-Verse dubbed UNI-versal Basic Income. Liquidity mining, the last leg of $UNI distribution, will end on November 17, 2020, after which the community will have 60% of all $UNI .

Check out our very own Understanding Uniswap: a beginner's guide and review for more information.
$MKR

: Maker's governance token

Maker pioneered the first working DAO, MakerDAO, the project was conceived in 2015 and fully launched in 2017, to issue and manage $DAI , the world's first fully-decentralized stablecoin. MakerDAO manages the Maker Protocol, which manages updates and upgrades to $DAI , like the major upgrade from single-collateral to multi-collateral, as well other economic valves in the ecosystem like collateralization ratios, stability fees, liquidation penalties, and other parameters like the DAI savings rate (DSR)*. To participate in the debate around tweaking these parameters, you will need some $MKR . $MKR was originally sold in an *initial coin offering (ICO) and attracted big-name investors like Andreessen Horowitz and Polychain.

Check out our very own Understanding Maker: a beginner's guide and review for more information.
$AAVE

: Aave's governance token

Aave was founded as ETHLend back in 2017, and funded through an ICO. After attracting top Crypto investors like Framework Ventures and Three Arrows Capital, the protocol relaunched as Aave on the Ethereum mainnet in January 2020. The protocol has become the biggest lender in DeFi, with >$1B in total value locked (TVL) as collateral. A pioneer in flash loans (no-collateral loans that must be repaid in the same transaction), Aave has finalized swapping its old $LEND token for the $AAVE governance token, and switched to a community-oriented governance model.

Check out our very own Understanding Aave: a beginner's guide and review for more information.
$YFI

: Yearn Finance's governance token

Yearn launched in 2020 by overnight superstar developer Andre Cronje. The original fair launch distribution in DeFi, Cronje released all 30,000 $YFI , a "valueless" token by his own telling, to users of the protocol's vaults, causing a 10,000x parabolic run that sent shockwaves across Crypto markets. The Yearn protocol has been described as an "asset manager". Users deposit assets in Yearn vaults, which execute strategies via smart contracts, earning DeFi yields. The strategies are selected via governance, by $YFI holders.

Check out our very own Understanding Yearn: a beginner's guide and review for more information.
$KNC

: Kyber Network's governance token

Kyber is a decentralized liquidity protocol. it aggregates reserves provided by itself and others to create atomic swaps between supported ERC-20 tokens without an order book. KyberSwap integrates with dApps and fiat on-ramps to make billing easier for dApps by expanding the range of tokens that can be accepted to use the dApp. $KNC is staked to participate in governance in the KyberDAO and used to align incentives.

Check out our very own Understanding Kyber Network: a review for more information.
$SUSHI

: SushiSwap's governance token

SushiSwap was announced as an evolution of Uniswap with community governance by pseudonymous developer "Chef Nomi". The $SUSHI token was released in a vampire mining operation where users locked Uniswap LP tokens to be migrated to SushiSwap after two weeks, receiving $SUSHI in the meantime. $SUSHI would then be staked to receive a portion of the protocol's trading fees. After hitting some bumps on the road, including Nomi's dramatic exit, the protocol is now governed by a community-elected multisig. $SUSHI holders participate in SushiSwap's governance, called OmakaseDAO.

Check out our very own Understanding SushiSwap: a beginner's guide and review for more information.
$BAL

: Balancer's governance token

Balancer is a protocol for programmable liquidity. It works as a DEX on the AMM model, like Uniswap, but accepts multi-assets and smart-contract-owned pools where parameters like pool token composition, pool token weighting, and trading fees are fully programmable. This allows Balancer to lend itself to a wide variety of use cases from self-balancing tradable index funds to liquidity bootstrapping to smart treasuries. The Crypto-Verse has only scratched the surface of what Balancer as a DeFi primitive can do. $BAL distribution is ongoing to select liquidity providers in Balancer, and governance is done via $BAL voting in snapshot.page, a Balancer Labs offshoot that's become popular in DeFi as a gasless voting platform.

Check out our very own Understanding Balancer: a beginner's guide and review for more information.
$CRV

: Curve Finance's governance token

Michael Egorov, the former CTO of NuCypher, the big-data encryption protocol and darling of Silicon Valley-based Crypto investors, launched Curve as a DEX for stablecoins, after tweaking the AMM model to produce a bonding curve that allows for less slippage for soft-pegged assets. Despite a controversial launch by an anon user that had to be officialized by the Curve team, the protocol has expanded into other soft-pegged assets like Bitcoin-on-Ethereum versions and become a mainstay of DeFi due to its extremely low fees, low slippage, and the fungibility of its LP tokens (which often trade just a little above the underlying pool assets). $CRV for governance needs to be time-locked for veCRV, which has voting power, a mechanism that also boosts $CRV rewards, paid to all Curve LPs.

Check out our very own Understanding Curve: a beginner's guide and review for more information.
$MTA

: mStable's governance token

mStable is a protocol for strengthening stablecoins and digitized commodities to prevent the fragmentation and current complexity of the digital asset economy. The team, backed by Alameda Research (FTX's owner) and Three Arrows Capital. The mStable app can be used to mint stable assets like $mUSD which can be exchanged one-to-one with no slippage for other in-pool stablecoins. You can vote-lock $MTA to earn a portion of the protocol fees and participate in the mStable governance.

Check out our very own Understanding mStable: a beginner's guide and review for more information.
$PICKLE

: Pickle Finance's governance token

Pickle Finance started as another so-called food protocol but it was no memecoin. Spearheading the concept called elastic farming to create incentives to bring stablecoins back to their peg by creating buy or sell pressure using the logic of $PICKLE rewards. The project also forked the Yearn vaults into pJars where users could deposit ETH-stablecoin pairs and automatically compound other farming rewards like $UNI and $CRV . In what has become a DeFi phenomenon, Yearn and Pickle core teams are actually on extremely good terms and cooperate and learn from each other. Unlike the $YFI token, $PICKLE can be earned by providing liquidity to $PICKLE itself or any of the pJars offered by the protocol. $PICKLE holders participate in the governance of Pickle and earn protocol fees.

Check out our very own Understanding Pickle: a beginner's guide and review for more information.
$CREAM

: Cream Finance's governance token

A fork of Compound by former Taiwanese hip hop star, media mogul, and cryptopreneur Jeffrey Huang, Cream (or C.R.E.A.M. – Crypto Rules Everything Around Me) focuses on inclusivity by incentivizing the lending, market-making, and swapping of riskier DeFi and DeFi-related assets like $YFI , $yUSD , and others. Cream also operates in the Binance Smart Chain, a project Huang really believes will help Crypto due to the vast network of users around Binance.

Check out our very own Understanding Cream: a beginner's guide and review for more information.
$SWRV

: Swerve's governance token

Swerve is a fork of Curve that promises to be 100% community-owned. Swerve focuses on the same functionality as Curve, which is being a DEX for stablecoins on the AMM model. The $SWRV governance token is being distributed to Swerve LPs with no premine, no VCs, and no tokensales. Swerve has started with only one pool with four stablecoins – $USDT , $USDC , $DAI , and $TUSD – but can expand in different directions than Curve due to its different governance structure.

DeFi wallets and tools

To plug into DeFi, you need a DeFi wallet. Moreover, given the nature of DeFi, several specialized tools have made inroads to provide insightful dashboards and expedited user experiences that allow DeFi to be more accessible and useful.
MetaMask
MetaMask is the quintessential Web3 wallet for Ethereum. MetaMask accepts $ETH , ERC–20 tokens, and non-fungible tokens (NFTs) or ERC-721 tokens and comes as a web browser extension as well as a mobile app for iOS and Android with a built-in Web3 browser. You will need a Web3 wallet to browse and personalize your experiences with dApps and Web3-enabled interfaces. MetaMask is the most widely supported wallet, it is free and fully compatible with the Ethereum Name Service (ENS) that allows users to register human-readable addresses like vitalik.eth.
Argent
Argent is a mobile wallet for iOS and Android that aims to make DeFi easy for non-technical users. Argent promises a seedless recovery and free or low-fees thanks to the use of meta-transactions. Argent comes integrated with protocols like Maker , Aave , and Uniswap so users can have Venmo-like access to savings, loans, and market-making on DeFi.
Portis
Portis, now a ShapeShift company, is a popular non-custodial wallet that is also developer-friendly. For users, it offers fiat on-ramps and simple login with email and password. Portis supports multiple blockchain networks: Ethereum, Bitcoin, and EOS. In Ethereum, Portis supports ERC-20 tokens. Portis now comes integrated with ShapeShift's zero-commission exchange, as well as a host of DeFi apps like Aave , Uniswap, Balancer, and a lot more. A seriously impressive list of dApps.
Coinbase Wallet
The Coinbase Wallet is the non-custodial cousin of the Coinbase app. It offers every Coinbase-supported assets like $BTC , $ETH , and $LTC , plus any ERC-20 and ERC–721 token. The wallet comes in mobile iOS and Android versions and offers a dApp browser for Web3. Fiat on/off-ramps are integrated with Coinbase. Integrations to DeFi apps include Augur and Maker , among others.
Trust Wallet
Developed independently and acquired by Binance, Trust Wallet offers the wide-arrange of assets from multiple chains that one would expect from the Binance ecosystem, in a fully non-custodial wallet. Get your $BTC , $ETH , ERC–20, ERC–721, and BEP–2 tokens under the same roof. Fiat on/off-ramps are fully-integrated with Binance's ecosystem (credit cards, bank transfers, P2P). To access DeFi, use the built-in Web3 dApp browser.
InstaDapp
InstaDapp is a DeFi smart account (DSA), a self-custodial smart contract that can only be funded by the wallet you authorize. The DSA serves as a single point of integration to different DeFi protocols. InstaDapp provides a dashboard so users can make the most of their positions in DeFi by switching easily between different actions that can be taken at MakerDAO , Compound, Aave , and Curve .
Zapper.fi
Zapper.fi is a functional DeFi dashboard that is simple to use. Connect a Web3 wallet like MetaMask or Portis and the dashboard will read the different DeFi assets in that address and help you track your positions by enriching the data. For example, if you hold Uniswap, Balancer, or Curve LP tokens you will be able to see the asset mix in the liquidity pool and the value of your pool position; the same goes for staking in vaults for governance or auto-compounding (like yEarn and Pickle). Zapper monitors your liquidation risk so you don't get penalized in Maker or Compound; and also tracks your accumulated yield farming rewards so you can plan your harvest. Importantly, Zapper supports zaps or chained transactions that allow you to enter a pool with a single-asset and cash out on a preferred asset. Zapper supports multiple base currencies ($BTC , $ETH , $USD, etc), languages, and Web3 wallet providers. It's a tool that augments the UX of DeFi and makes life much easier for any DeFi player.
DeFi scores, ratings, and other lists
DeFi has broken nearly every rule in Crypto, and thus it makes sense that measures like market capitalization (marketcap) of a governance token (when it exists) gives an incomplete picture of how to assess value in a protocol.
DeFi Pulse
DeFi Pulse grandfathered the total value locked (TVL) measurement taking into consideration the dynamics of DeFi. Think of it almost as deposits for banks and assets under management (AUM) for investment firms. DeFi Pulse offers an index of audited protocols by TVL as well as a list of DeFi resources. The DeFi Pulse Index (DPI) has been tokenized by Set Protocol as a marketcap-weighted tracker of the ten most popular DeFi tokens in DeFi Pulse.
DeFi Rate
DeFi Rate maintains a table of the most up-to-date lending and borrowing interest rates across DeFi. DeFi Rate also offers a 30-day average of interest rates and includes not only DeFi protocols but centralized finance (CeFi) and centralized "DeFi" (CeDeFi) providers of Crypto savings and loans for a better comparison. You may also find some reviews of DeFi apps and tools in DeFi Rate.
Bankless
Bankless is a newsletter, podcast, and education resource creator for those interested in open finance and DeFi. Bankless caters to a crypto-native audience but promises newcomers a journey for getting skilled in the art of DeFi investment via its organized content offering.
DeFi is a space that is constantly evolving. We want to keep this list up-to-date and keep adding to it as more and more content is created around DeFi.
Help us make this DeFi list better by sharing your thoughts and opinions on DeFi. If you want to learn more about DeFi, ask us anything, we want to make this comprehensive yet accessible to users at all levels on their journey in Crypto.